BENEFITS OF PASEO MEMBERSHIP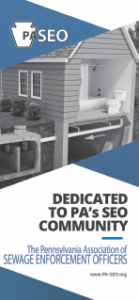 As the saying goes "membership has its privileges" and to that, PASEO is no exception. PASEO members receive a significant number of benefits and services that are available through no other organization within the Commonwealth.
Professional Administrative Staff
Accessible by telephone daily, the administrative staff is there to answer your questions. If our staff can not help resolve your problem, they will guide you to the party who can.
Educational and Training Opportunities
PASEO offers several opportunities for members to advance their professional education and enhance their job skills. The PASEO Annual Conference and Trade Show is the premiere educational opportunity for SEOs, providing advanced training in all aspects of the SEO profession. Offered each Spring, the Conference covers all topics including: Technology updates, soils morphology, alternate systems, proper site planning, safety issues, and many, many more! >From time to time, PASEO also offers specialized training courses at various venues about the state. Some courses such as Installer Training target non-SEO audiences but benefit the SEO by educating the regulated community.
PASEO Publications
PASEO offers an array of publications to assist its members. Ranging from the PASEO Enforcement Manual (the first law book written specifically for those enforcing the Sewage Facilities Act) to the SEO Calculator (a series of charts designed to assist SEOs in performing calculations in the field) , these publications are designed with the Sewage Enforcement Officer in mind and available only to members!
Legislative and Regulatory Watch Dog
Sewage Enforcement Officers have enough to do without having to worry about regulatory and legislative changes sneaking up on them. PASEO's Legislative and Regulatory Alerts keep SEOs informed of pending legislative and regulatory matters. Legislative and Regulatory Updates inform members of newly enacted legislation and regulation often months before the Department of Environmental Protection sends out its official notices.
PASEO is also proactive in protecting its members. PASEO is represented on Department of Environmental Protection's Sewage Advisory Committee, a body that reviews all DEP regulatory and policy proposals. The PASEO Legislative and Regulation Committee constantly monitors the actions of the Legislature and the Department. Bills and regulatory proposals are promptly evaluated and commented upon. Should further action be necessary, the board can marshall the resources of a lobbyist or the association's solicitor as needed.
Official Newsletter
PASEO publishes The Reporter, a regular newsletter packed with articles to inform and educate its members. Through the newsletter, members receive information about new technology, commentaries on professional issues, and clarification of policies issued by the Department. Humorous anecdotes, "how to" tips, and membership information help make The Reporter a membership bonus that can't be missed.
Networking and Social Interaction
Many Sewage Enforcement Officers tell us, they learn more from interaction with other SEOs than the do in the Department's training courses. With this in mind, PASEO offers many opportunities for SEOs to interact with one another. Regional Meetings bring SEOs together on the local level while the Annual Conference and Trade Show brings SEOs together from throughout the Commonwealth.
Field Trips
PASEO members can explore the latest in sewage technology and glimpse into the future through PASEO sponsored field trips to the EPA on-lot technology demonstration site in Morgantown West Virginia and Pennsylvania's on-lot sewage test facilities at Delaware Valley College.
Ordinance Library
Is your municipality looking to update their sewage ordinance, enact a maintenance ordinance or, just looking for a way to close a legal loop hole? The PASEO Ordinance Library is there to help. Peruse through the ordinances on file and you'll be sure to find what you're looking for. But remember, this service is available to members only.
Discounted PA One-Call
State Law requires that you register with the Pennsylvania One-Call utility marking system before digging into the earth. PASEO makes compliance easier by providing a $50.00 rebate. Members need only to register with One-Call. Pay the fee. Then forward a copy of the bill to PASEO. The $50.00 saved practically pays for your PASEO membership!
Membership Savings
In addition to services that are exclusive to members only, PASEO offers generous discounts to members attending PASEO events that are open to the public.
And, much, much, more …
The PASEO program grows and evolves each year. Your membership dues and participation will allow PASEO to grow and offer new programs and services. Join today and see why PASEO is the only organization for SEOs by SEOs.