2023 PASEO ANNUAL CONFERENCE & TRADE SHOW

Countdown to 2023 Conference & Trade Show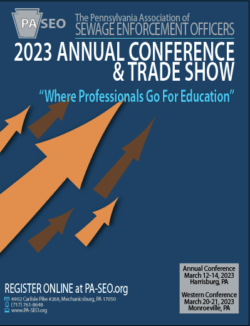 Thank you conference sponsors:
PLATINUM SPONSORS
NORWECO Inc.
Infiltrator Water Technologies
Eljen Corporation
GOLD SPONSORS
Driller Services Inc
Schwarr Industries
BRONZE SPONSORS
ExpertSeptic
The PASEO Annual Conference & Trade Show is the longest running educational opportunity for Sewage Enforcement Officers and all the professionals involved in the onsite wastewater industry in Pennsylvania.
PASEO is offering SEOs two conferences in 2023 — one in Harrisburg & one in Monroeville!    
The Annual Conference & Trade Show will be held on March 12-14, 2023 at the Red Lion Hotel, 4751 Lindle Road, Harrisburg, PA 17111.   PASEO has a discounted overnight guest room rate of $100/night (use block name PASE0311 – note that the last four digits are numbers…i.e., the 0 is a zero not an "O") – discount ends Feb 25th.
PASEO will be applying to PA DEP for continuing education credits for conference break-out session attendees.   Because PASEO will be offering approved SEO training courses concurrently with other conference activities on Sunday, Monday & Tuesday (in Harrisburg), an SEO could potentially earn more continuing education credits.
PASEO will be offering the 2-day "Installation of Onsite Wastewater Systems" training course on Monday, March 13th through Tuesday, March 14th.  Attending this 12-SEO credit course will be in lieu of conference break-out sessions.  [NOTE: the Installation Course has SOLD OUT.]  An additional optional full day of training is planned for Sunday, March 12th.
In an effort to reach out to SEOs in Western Pennsylvania, PASEO will be offering a two-day Western Conference & Trade Show scheduled March 20-21, 2023 at the DoubleTree by Hilton, 101 Mall Blvd, Monroeville, PA 15146.  The Western Conference will consist of two tracks of different training course that attendees can register for ala-carte.
See below for more details on registering or exhibiting at either the Annual Conference and/or the Western Conference.
ATTENDEE INFO
PASEO's annual conference offers a unique educational and networking experience for Pennsylvania's SEO community as well as other industry professionals. Whether you are a regulatory SEO, a designer, an installer, a service provider, or manufacturer, there is no better place to get the information you need regarding the onsite wastewater industry.
This year's conference theme will be Where Professionals Go For Education.  Break-out session will offer attendees education content focusing on septic system regulatory topics, design topics, and more! 
Download the Attendee Registration Brochure for details on both the Annual & Western Conference.
If registering online, you can opt to pay by credit card or check.  You will make your session selections during the checkout process.
Register for the Annual Conference, Add-on Training Course, and/or Western Conference Training Courses below by adding to your cart:
No Results Found
The page you requested could not be found. Try refining your search, or use the navigation above to locate the post.
EXHIBITOR/SPONSOR INFO
Each year PASEO hosts Pennsylvania's premier Conference and Trade Show for 200+ sewage enforcement officers & wastewater professionals. PASEO invites you to take part in another successful Conference and Trade Show as an exhibitor, sponsor, or advertiser.
Download the Exhibitor/Sponsor Invitation Brochure for additional details & event policies.
You can also register additional booth personnel, sponsor the conference, and/or advertise in the conference program.  Consider adding those "products" to your cart during the checkout process to maximize your company's exposure to Pennsylvania's wastewater community.  Please note that some sponsorship levels include a booth rental.
If registering online, you can opt to pay be credit card or check.
Register your booth, sponsorship, and more online below by adding to your cart:
No Results Found
The page you requested could not be found. Try refining your search, or use the navigation above to locate the post.